'Something has to be done'
Teacher will climb Mount Washington to fight cancer

Published: Saturday, Jan. 12, 2008
contact us


ENLARGE PHOTO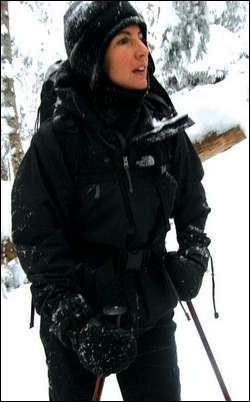 Ann Melim
"One tough English teacher" — that's Ann Melim's reputation among her students and colleagues at Hollis/Brookline High School.
Melim, 33, will have to be tough. The teacher and faculty advisor to the school's Outing Club is preparing to climb Mount Washington on Jan 19.
She will push her 5-feet, 110-pound frame to the limit as she ascends up the mountain. At 6,288 feet, the largest peak in the Northeast, the mountain boasts some of the most severe weather in world where temperatures at the summit average a mere 5 degrees Fahrenheit in January, with an average monthly snowfall of 53 inches.
Alex Sosnowski, an expert senior meteorologist, says the winds can be a cause for concern, "On a good day, wind speed likely average between 25 to 50 miles an hour," he said, and it is not uncommon for wind gusts to reach well over 100 miles an hour.
Melim made the hike up Washington around the same time last year, calling it one of the hardest and most tiring experiences of her life. And in hindsight it's one of her proudest moments.
"When the climb gets tough, I just remember the reason why I'm on the mountain," she said, and that reason is cancer.
"I've lost too many people to cancer. It makes me angry. Something has to be done," said Melim, who wants her undertaking to shift more attention to cancer research.
She hopes the hike will raise awareness and money. She is accepting donations for the Stanford Larson Memorial Scholarship, created in memory of a 2006 graduate of Nashua High School South.
The very day following his graduation he was rushed to a hospital emergency room because of sudden stomach pains. Doctors discovered a cancerous tumor in his abdomen, and seven months later he died.
A musician who was active in the community and in extracurricular activities, "Stanford was kind to everyone he met … he was just a blast to be around," said John Larson of his son. "I'm just really touched by" the Mount Washington hike.
Melim learned about Larson from his friends and family.
"He lived with so much passion and integrity, it seemed like he lived and loved every second," she said.
The scholarship is awarded annually to a graduating senior of Nashua South, accepted to an accredited college or university, is active in performing arts, has demonstrated leadership, and displays integrity.
Students at Hollis/Brookline High School are praising Melim for her efforts.
"She is one of the most amazing people I have ever met; she is so selfless," said senior Alex McConney.
Many students have offered to help in any way possible and have played a large roll in the fundraising efforts through donations. About a week prior to the hike, roughly $600 has already been raised.
"She has taken this cause under her wing," said Principal Timothy Kelley. "We're really proud of her efforts."
Melim, an outdoor enthusiast and avid hiker, will be joined by her husband on the climb. She is conscious of the dangers involved with the excursion, knows her physical threshold, and is confident in her experience, but there is always anxiety she said.
"You have to be able to leave your ego at the bottom and understand when you have to turn around," she said, "Things can go wrong and you have to know that."
The hike will start and end at Pinkham Notch. If all goes as planned, it will take an estimated eight to nine hours. The couple will be on the trail in the early morning, around 5:30 a.m., and reach the summit around 10:30 a.m., and arrive back around 2:30 p.m.
Her motivation is a definite source of strength.
"The driving force is knowing that I have the power to do something," she said, "There's something redeeming about it."
Melim plans to make it an annual fundraising event and each choose a different charity or scholarship associated with cancer.
For more information or to make a donation contact Ann Melim at
melima@sau41.k12.nh.us
. Or go to.
www.stanfordlarsen.org/scholarship/scholarship
.